Ashley grew up downtown. As a high school dropout, he said he had been working toward earning some sort of employment certificate before he was sent to Rikers. He was living with his elderly grandmother in Manhattan's Lower East Side and taking care of her.
"I had a lot of s— going on before," Ashley said. "I was trying to get my life together."
On May 14, 2022, Ashley went to The Ritz — the same bar where Ramirez was last seen a month before — looking for a hookup, he said. He said he had been to the bar two or three times before. 
Prosecutors said Ashley left the bar and went to the apartment of the man whose phone and wallet Ashley would later steal. Ashley said he does not remember going back to the man's apartment, but does remember that he had not met the man before. He described the man as being in his 20s and Latino.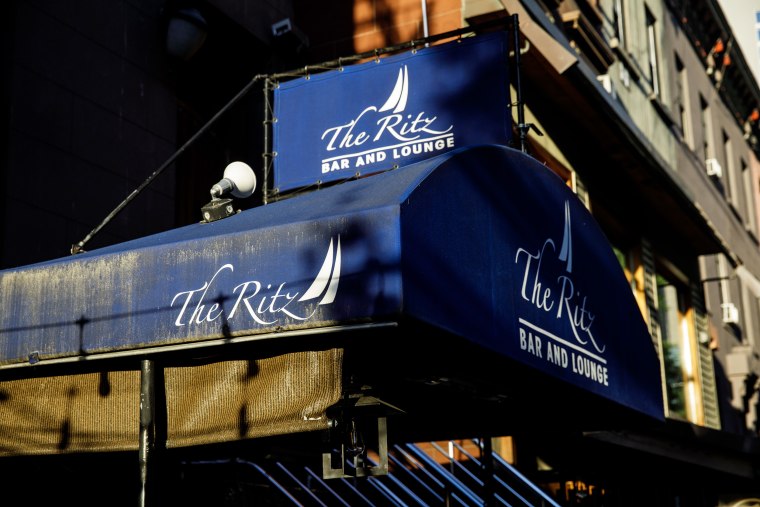 Police obtained security footage of Ashley using the victim's phone to pay for Taco Bell that same morning via Apple Pay, according to prosecutors. Ashley said he does remember getting Taco Bell but suggested the victim could have bought him food.
In April, Ashley was arrested and charged with robbery, grand larceny, petit larceny and identity theft for four incidents from October 2021 to August 2022, including the May 2022 encounter, which was linked to the broader crime scheme, according to prosecutors. Unable to make bail, he was sent to the notorious Rikers Island jail.
After nearly seven months there, Ashley said he changed his plea to guilty so he can serve time in prison elsewhere. For years, the massive jail complex has been under scrutiny by criminal justice activists and lawmakers from around the country for its allegedly "inhumane conditions." 
Ashley had one word to describe his time at Rikers: "rough."
He said he's been in fights with inmates, adding, "Maybe two or three altercations with officers' use of force, but that's about it."
Being in custody has also taken an immense emotional toll, he said. His grandmother died while he was behind bars. 
He explained that, regardless of the other crimes he committed, he believes the May 2022 encounter had an outsize impact on his sentencing because it was linked to the wider scheme.
Ashley was not charged with murder and was not present on the nights of either Ramirez's or Umberger's deaths, according to prosecutors. He said he only found out about the wider crime scheme when he obtained an attorney upon his arraignment.
"I knew it had nothing to do with me," he said of victims who were drugged and died.
Prosecutors allege that another one of the six suspects, Hamilton, who was charged with murder in the deaths of both Ramirez and Umberger, was present on the night Ashley committed the robbery in May 2022. Hamilton was accused of giving Ashley's victim an unknown illicit substance outside the bar and using the victim's phone to steal $2,000 from his bank accounts. Hamilton's lawyer declined to comment.
Ashley said he remembers Hamilton being at the bar that night, but he maintains that he never saw Hamilton drugging anyone. Ashley declined to say how he knew Hamilton, citing Hamilton's ongoing case, but said they were not friends. He also denied knowing any of the other four defendants.
After sitting with NBC News in the Rikers visitors' hall — a nearly empty room that could seat hundreds — for about 15 minutes, Ashley called a correction officer over to end the meeting.
"I don't even care anymore," Ashley said when asked about being connected by authorities to a broader scheme that led to the death of two men, walking off. "It's behind me."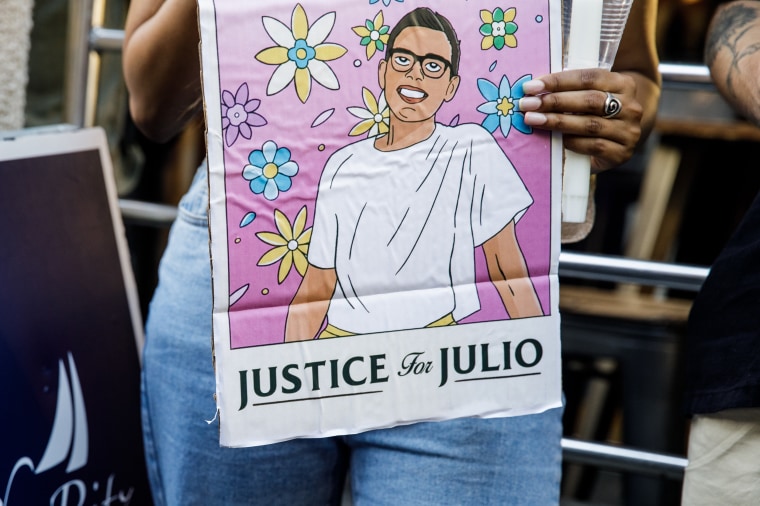 For the victims and families of the deceased, the yearslong crime scheme has been difficult to leave behind. 
Many of the victims who spoke with NBC News described re-entering New York City's nightlife scene with apprehension. 
The 51-year-old man said he's been out only once or twice since he was robbed. He said he's afraid that his assailants — who he said do not appear to be any of the suspects arrested in recent months — might recognize him.
"I go straight to work and straight to home," he said. "I'm always looking around; I'm always suspicious of everything."
Michael said he is slowly trying to re-enter New York's nightlife scene after being abandoned in East Harlem. 
"My therapist has told me to be more discerning around people, and that's a good defense mechanism, but I don't really like that, you know?" Michael said. "I like the person I am. I like being friendly and trusting and open, and it would really suck if that's something that was permanently changed by this experience."
Michael went back to The Eagle NYC for the first time last month. Instead of opting for a late night out, he went for happy hour earlier in the evening.
All but one of the surviving victims who spoke with NBC News said they still have facial recognition software on their phones out of convenience. Some note that the larger issue is the danger of being drugged, regardless of whether a criminal can unlock a person's phone and steal their money.
The Ramirez family did not celebrate Thanksgiving or Christmas last year, Carlos said, and does not plan on doing so this year either. For Carlos personally, he said he misses his best friend.
"When something happens and it's good news and he's not here, I can't share it with him. It kind of takes away from it," Carlos said. "That's really hard."
Clary said she hasn't built up the courage to go through her son's belongings in his apartment in Washington, D.C. More recently, she's made a handful of trips to New York City for the pretrial court appearances of the suspects charged in connection with her son's death. 
Clary has been enjoying her new role as a grandmother in recent months. But even that, she said, has been challenging at times.
"That whole experience is diminished because John is not here," she said. "At some point I have to let go of John not being here and trust God that He has a plan that this life, that we think is everything, is so small compared to eternity."
When she's in New York, she said she likes to frequent some of her son's favorite restaurants in Manhattan: The Waverly Inn in the West Village, Minetta Tavern in Greenwich Village and La Goulue on the Upper East Side,  across the street from the apartment where her son died.
"It is a kind of ridiculous, not logical thing," Clary said. "But you like to go to the places he enjoyed being at because you're thinking, 'Yeah, this is the closest thing you have to him being here.'"