As campuses across the country continue to erupt in protests over the Israel-Hamas war, a little-known 2019 presidential executive order is expected to fuel a flood of student legal claims against universities.
Attorneys — from a mix of white-shoe corporate firms to Jewish advocacy groups — are meeting with students who say their schools are failing to protect them from antisemitic or anti-Israel conduct.
In 2019, then-President Donald Trump signed an order instructing federal officials to expand the interpretation of Title VI of the 1964 Civil Rights Act to include "discrimination rooted in anti-Semitism" as a form of discrimination based on race, color and national origin — prohibited behavior for programs that get federal funding. Trump signed the order amid a series of violent incidents against Jews, including the 2018 killing of 11 congregants in a Pittsburgh synagogue and a 2019 attack that killed three inside a Kosher supermarket in New Jersey.
Title VI of the 1964 Civil Rights Act does not include the word "religion" as a subject of discrimination. Because the law does not list religious characteristics, legal experts say, federal officials have gradually expanded interpretations to include ethnoreligious groups.
Trump told federal agencies "to consider" using the Sweden-based International Holocaust Remembrance Alliance's definition of antisemitism, which includes "holding Jews collectively responsible for actions of the state of Israel" and "drawing comparisons of contemporary Israeli policy to that of the Nazis."
The alliance promotes Holocaust education and research, and has come under criticism by both Jewish and non-Jewish groups for suggesting that broad criticism of Israel can be construed as antisemitic.
In January 19, 2021, the day before Trump left office, the U.S. Department of Education, released a five-page questions and answers memo defining what constitutes antisemitism at schools.
An NBC News review of the department's current investigations showed 15 pending cases related to race or national origin. The most recent filing listed was against Oberlin College in Ohio, dated a week before the Hamas attacks on Israel. Melissa Landa, an alumna of the college, told NBC News that she filed the letter because the school didn't intervene after a professor taught students that "Israel is an illegitimate settler colonial apartheid regime," according to Landa.
"I think that students need to file Title VI complaints so that universities can have federal money withheld from them, and maybe that will make them act," Landa said. "I hope that my Title VI complaint will serve as an example for them."
A spokesperson for the Department of Education said that since Hamas' Oct. 7 terrorist attack on Israel, which killed more than 1,400 Israelis, "we have seen an uptick in complaints and the department is assessing them all."
Lawyers said they have received an overwhelming number of calls from across the country from Jewish college students and their parents requesting representation in Title VI claims. Kenneth Marcus, who ran the U.S. Department of Education's Office for Civil Rights during the Trump and George W. Bush administrations, said he is getting many calls.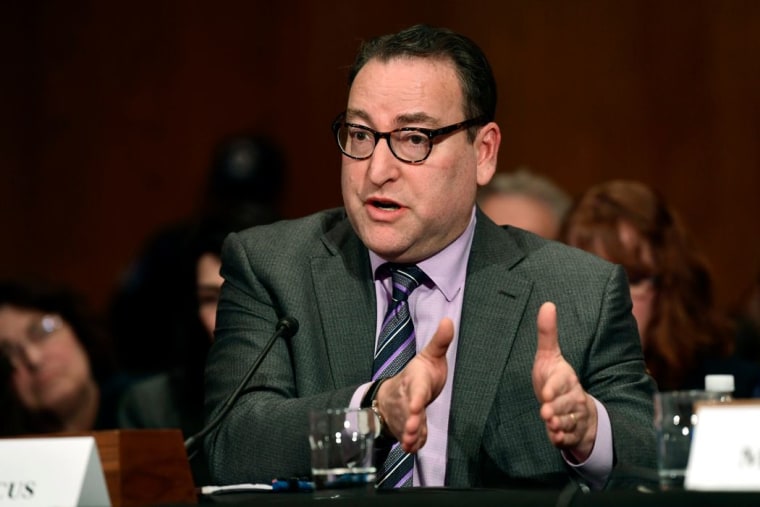 "Oh, my God, I can't tell you how many campuses we're dealing with every single day. We have never been so inundated with cases," said Marcus, who now runs the Brandeis Center for Human Rights, a nonprofit focused on protecting the civil rights of Jews.
In recent years, the Brandeis Center has filed Title VI complaints against the University of Vermont and the State University of New York at New Paltz on behalf of Jewish students who said their universities have allowed antisemitism to fester on campus.
In April, the Department of Education's Office for Civil Rights said it found that the University of Vermont failed to investigate student claims of antisemitism and did not examine whether the complaints had created a hostile environment for Jewish students.
The University of Vermont signed a resolution agreement with federal officials later that month vowing to enact reforms such as expanding the school's discrimination policy to include protections for students based on shared ancestry, including antisemitism. In June, the Office for Civil Rights opened a formal investigation into SUNY-New Paltz.
For years, Marcus has also been fighting to broaden Title VI protections to members of other ethnoreligious groups. He said prior to the Trump administration, he wrote guidance memos that said Title VI could be interpreted to include protecting members of other ethnoreligious groups such as Sikhs and Arab Muslims. But in 2019, Trump kept his executive order focused on protecting Jews.
In September, President Joe Biden issued a statement noting that Title VI also prohibits Islamophobic activities in federally funded programs. But the U.S. Department of Education has not released a detailed memo that defines Islamophobia as it has done for antisemitism.
Gadeir Abbas, a senior litigation attorney with the Council on American-Islamic Relations, said his team is preparing discrimination complaints on behalf of Muslim and pro-Palestinian students, who he says are being unfairly labeled as Hamas sympathizers or unfairly accused of providing support to terrorists.
"I think that pro-Israel groups, groups that are seeking to marginalize Palestinian voices on campus, see the Title VI claim as a way of attacking not the administration, but the other student groups," Abbas said. "The idea is that [they're] going to censor or penalize or punish any advocacy for equal rights of Palestinians."
As a result, he said, Palestinian students — or students who say they support Palestinian civilians in Gaza — feel vulnerable on campus and in their communities, and some are considering filing their own Title VI claims.
NBC News has reported that bias incidents against Muslims are on the rise. CAIR said that it received 774 reports of bias incidents and requests for help from Muslims across the country from Oct. 7 through Oct. 24, nearly triple the number compared to a similar time period last year.
Abbas said that students, like all Americans, have a right to protest in the United States. "In a conflict between the First Amendment and Title VI, the First Amendment wins," Abbas said. "Those student groups are participating in lawful activity. They're recognized willingly by their colleges and universities."
Three weeks before the Hamas attacks and the subsequent protests on American campuses, Palestine Legal, an advocacy organization for Palestinian rights, filed a Title VI complaint with the U.S. Department of Education. Attorneys demanded a federal investigation after the University of Illinois Chicago barred students "with Arab sounding names" from attending a January 2023 informational session on a university-sponsored Israel study-abroad program.
Legal experts said they expect the largest number of future Title VI cases to be filed against universities by Jewish students. The Anti-Defamation League recently reported that nationwide, "incidents of harassment, vandalism and assault increased by 388 percent over the same period last year."
One of the most outspoken advocates for Jewish students' use of Title VI since Oct. 7 has been the Lawfare Project, a nonprofit that represents Jewish clients. Lawfare staffers have met with Jewish students on campuses, posted solicitations for cases in Jewish WhatsApp groups, and used the organization's social media accounts "End Jew Hatred" to recruit young clients.
"While we always had students reaching out to us, after Oct. 7, that became a flood," said Lawfare senior counsel Gerard Filitti, while standing on the sidelines of a recent pro-Israel rally at Columbia University. "The phone was ringing nonstop."
Georgetown Law student Julia Wax, 25, was also at the Columbia rally. Wax said she is in talks with Lawfare to file a Title VI lawsuit against her law school, claiming that pro-Palestinian student organizations on her campus have been publicly supporting Hamas.
"I think in a perfect world, Georgetown would create some sort of an open forum for this conflict to be discussed," said Wax, adding that she wants Georgetown to adopt the IHRA definition of antisemitism.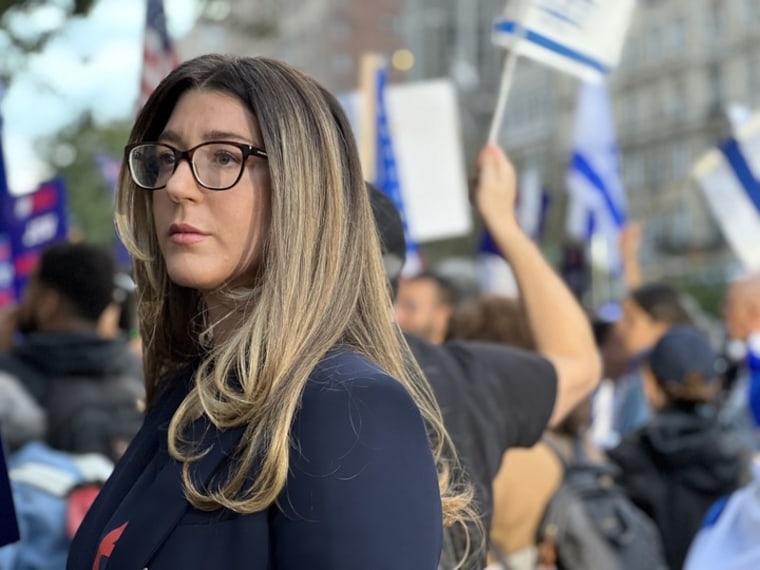 In February 2020, Lawfare represented one of the first Jewish college students to file a Title VI complaint against a university after Trump's executive order. Jonathan Karten, then 24, was a Columbia University student who said he was harassed by members of the campus group Students for Justice in Palestine. (The group did not immediately respond to a request for comment.)
Karten's complaint said students called him "racist" and a "Zionist pig." Tensions further escalated as professor Joseph Massad, who teaches modern Arab politics and has a history of criticizing Israel, referred to the military wing of Hamas as "armed resistance," according to the complaint. Karten's uncle was killed by Hamas militants in 1996 while hitchhiking in Israel.
"My professor endorsed the very same monsters," Karten, who recently rejoined the Israeli army, said in a WhatsApp message.
The Department of Education declined to comment on the status of the case. 
Karten's younger brother, Isidore, also a Columbia alumnus, is pressuring the department to do more. Since the Hamas terrorist attacks, he has also helped organize pro-Israel events around the city and says he is frustrated by what he sees as Columbia's muted response to antisemitism.
On Wednesday, Columbia University announced it was starting an antisemitism task force to come up with changes to academic and extracurricular programs. Columbia spokesperson Samantha Slater said in a statement that the university is beefing up security.
"Over the past few weeks, we have increased our public safety presence across all our campuses," Slater wrote. "We are also working closely with outside security firms and are in regular contact with the New York City Police Department."
Isidore Karten said he and other young Jewish activists continue to feel that Columbia can do more. "I don't think they are doing enough," he said.