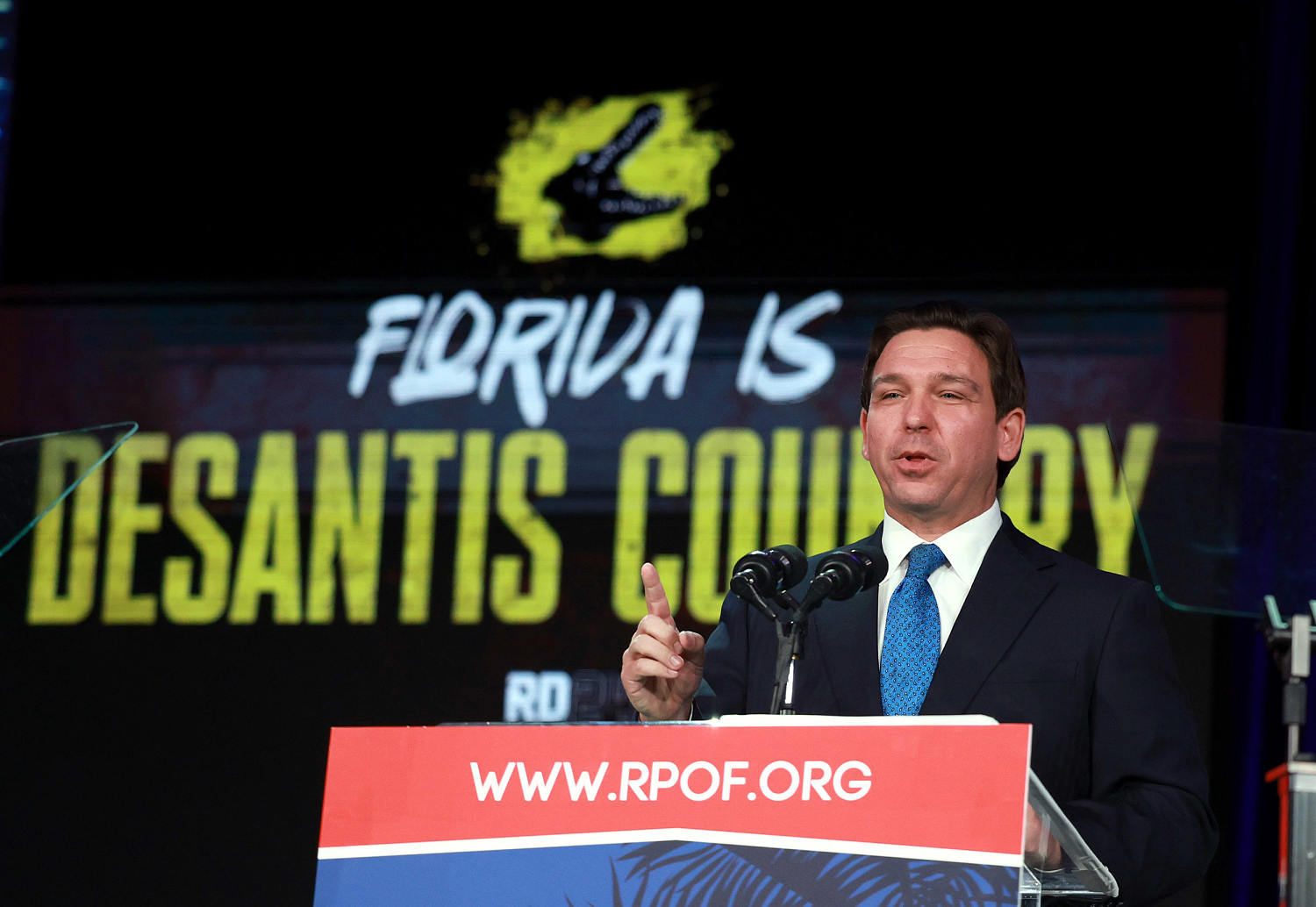 DeSantis' campaign was able to fill the room with supporters shortly before his 1:30 p.m. speech. There were large cheers and vocal support for remarks given by his wife, Casey DeSantis, who opened for her husband, and DeSantis' speech, which focused on culture war fights that have defined DeSantis politically but opened with a shot at Trump for using teleprompters. 
"Can we get rid of these teleprompters…I don't think we need those in Florida," DeSantis said as he took the podium. "You've got to speak from the heart." 
Some DeSantis supporters were bused in for his speech and had a big presence when DeSantis was on stage, but they were not there for most of the day — leaving an overwhelming perception that the day belonged to Trump.
Trump has a wide lead in most public polling, while DeSantis and former South Carolina Gov. Nikki Haley are largely jockeying for second place. NBC News first reported on Friday that Haley would not be attending the event due to family concerns, leaving DeSantis as the only candidate in attendance who has any traction in a GOP primary that Trump has dominated.
DeSantis, as other candidates did, met with reporters after he signed his qualifying paperwork to formally appear on Florida's March 19 primary ballot. He said that the fact that Trump's team continues to attack him is evidence he is a bigger threat than Haley.
"If you want to look at Iowa, where is the state?" DeSantis said. "You look at how people behave. And Trump's people are not attacking her. They're attacking me with $1 million." 
The morning before the event, Trump's campaign also announced seven members of the Florida Legislature that had previously endorsed DeSantis were flipping to support Trump. The move had been anticipated but was still a blow to DeSantis who, since taking office, has had complete control of the state's Republican infrastructure. 
"This happens in these things," DeSantis said of the flips. "We have had flips the other way in other states. It's a dynamic thing. I mean, politicians do what they are going to do. But I would say taking a step back and looking across the country, we have got more endorsements from state legislators than any other candidates by far, like going down in Iowa and New Hampshire, all these places."
But as DeSantis and Haley hash it out for second place in public polling, Trump spent an hour on stage Saturday night owning both the audience in front of him and furthering the perception that the Republican presidential primary is all but over.
"That is why the No. 1 phrase out there right now is…Trump is right about everything," he said to a massive applause.