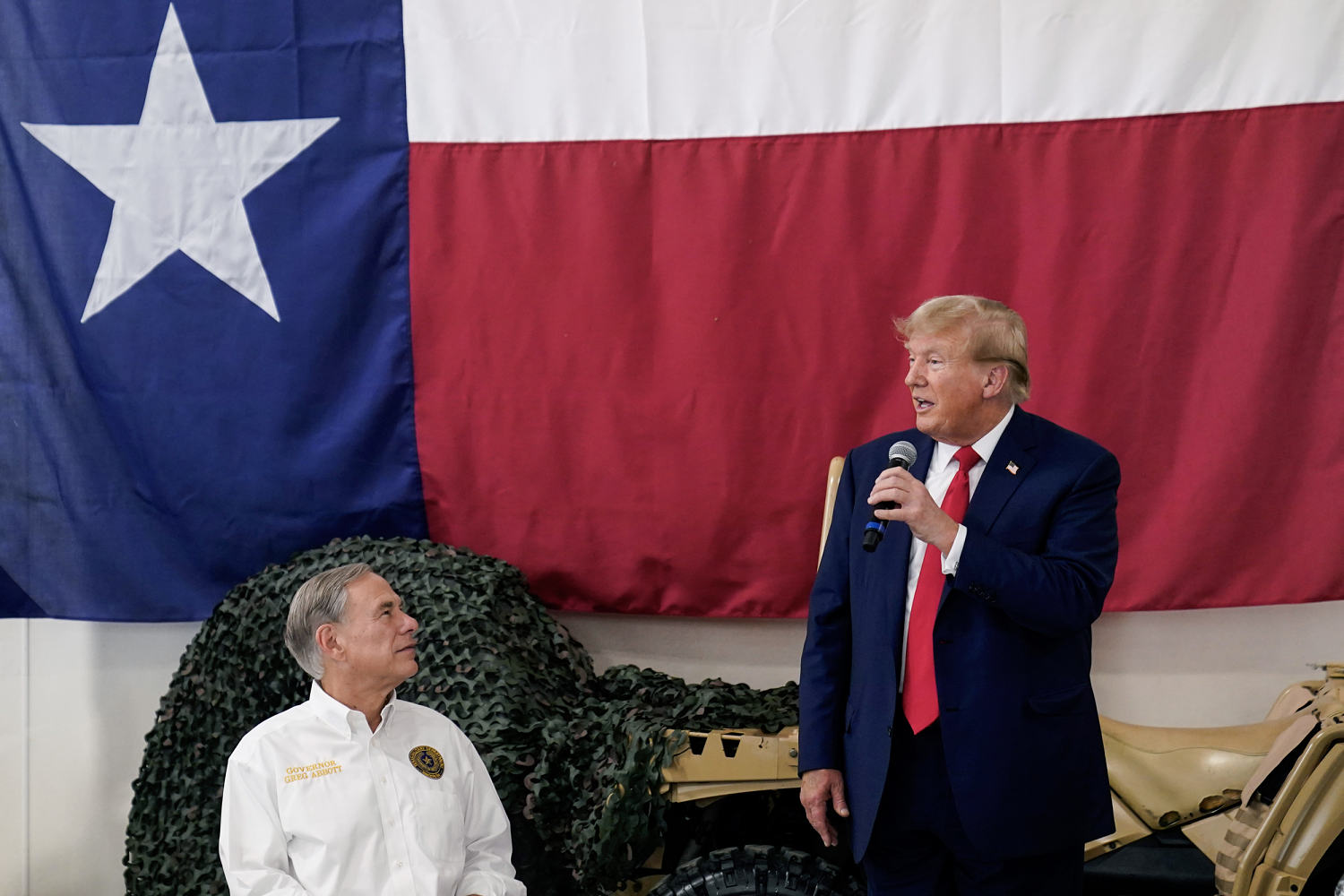 By Bridget Bowman and Alexandra Marquez
Over the weekend a trio of governors jumped into the 2024 presidential race, with two GOP governors taking sides in the primary and one Democratic governor trolling a top Republican candidate. 
On Sunday, Texas GOP Gov. Greg Abbott endorsed former President Donald Trump at an event near the southern border in Edinburg, Texas. 
"We need a president who's going to secure the border. We need a president who's going to restore law and order in the United States of America," Abbott said, per the New York Times. 
Abbott is the seventh Republican governor to endorse Trump, the Republican candidate with the most endorsements from GOP officials. 
Two governors, Oklahoma's Kevin Stitt and Iowa's Kim Reynolds, have backed Florida Gov. Ron DeSantis, and Reynolds hit the campaign trail with DeSantis over the weekend, per NBC News' Alec Hernández. DeSantis was even asked at one event if he would consider tapping Reynolds as his running mate, and she jumped in to say, "He needs strong governors in the states!"
DeSantis meanwhile faced new criticism from a Democratic governor: California's Gavin Newsom, who DeSantis is expected to debate on Fox News on Nov. 30. On Sunday Newsom's PAC launched a TV ad in Florida and Washington, D.C., as well as Fox News, knocking DeSantis' support for his state's ban on abortions after six weeks, per NBC's Bianca Seward.
In other campaign news… 
A Grand Old opportunity? Some Republicans see an opening for their party in appealing to moderate Jewish voters and Muslim American voters who are upset with how Biden has handled the Israel-Hamas war, per NBC's Allan Smith. But some also warned that the party should not be distancing itself from Israel. 
Anxious Democrats: The Washington Post reports that Biden's allies are playing "whack-a-mole" with fellow Democrats anxious about the president's re-election prospects. And Politico reports that Democrats have "deep concerns that the campaign's approach to his age isn't enough to quell voters' fears about it."
Eyes on Manchin: Biden advisers aren't that worried that Sen. Joe Manchin, D-W.Va., is going to mount a third-party presidential bid, citing his ultimate support for Biden's agenda and his concerns about being a spoiler, NBC's Mike Memoli, Carol E. Lee and Julie Tsirkin report. 
Knowing No Labels: Manchin advisers are still in touch with No Labels as the group continues to work to access state ballots. The group has considered requiring those who want to participate in its nominating convention to donate at least $100, per the Associated Press. And CNBC's Brian Schwartz digs into the group's funding, and finds most of the group's funds raised last year came from donors who gave at least $100,000.
Mixed messages: The Biden administration is sending two different letters to Americans depending on their support for Israel or Palestine, NBC's Jonathan Allen, Alex Seitz-Wald and Emma Barnett report. 
On the trail: Democratic divisions over the conflict continue to hound Rep. Dean Phillips, D-Minn., as he campaigns for president in New Hampshire, per Barnett.
All eyes on Iowa: At a forum for evangelical Christians in Iowa on Friday, DeSantis and entrepreneur Vivek Ramaswamy both shared stories of their wives' miscarriages, while former U.N. Ambassador Nikki Haley said she would have signed a six-week abortion ban in South Carolina if she was still governor, per NBC's Alex Tabet. And the New York Times explores DeSantis' "two-pronged" strategy in Iowa, as well as Trump's renewed focus on the Hawkeye State. 
Trump trials: A Colorado judge ruled Friday that while Trump "engaged in insurrection," he should not be barred from the state's 2024 ballot. In Georgia, Fulton County District Attorney Fani Willis requested that Trump's election interference trial begin Aug. 5. And in the federal election interference case, a judge ruled that references to the Jan. 6, 2021 riot should not be removed from Trump's indictment, rejecting Trump's request to do so. 
Over a million dollars donated: The conservative Heritage Foundation has ramped up donations to its non-profit Project 2025, which seeks to have policy goals and potential staff ready if Republicans retake the White House in 2025, NBC News' Katherine Doyle reports.
No comment: On Sunday, DeSantis refused to comment on Elon Musk's social media post that referenced an antisemitic conspiracy theory. 
Santos saga: House Ethics Committee Chairman Michael Guest, R-Miss., filed a resolution Friday to expel embattled Rep, George Santos, R-N.Y., from Congress. The House could vote the week after Thanksgiving to expel Santos, who faces federal wire fraud and money laundering charges.